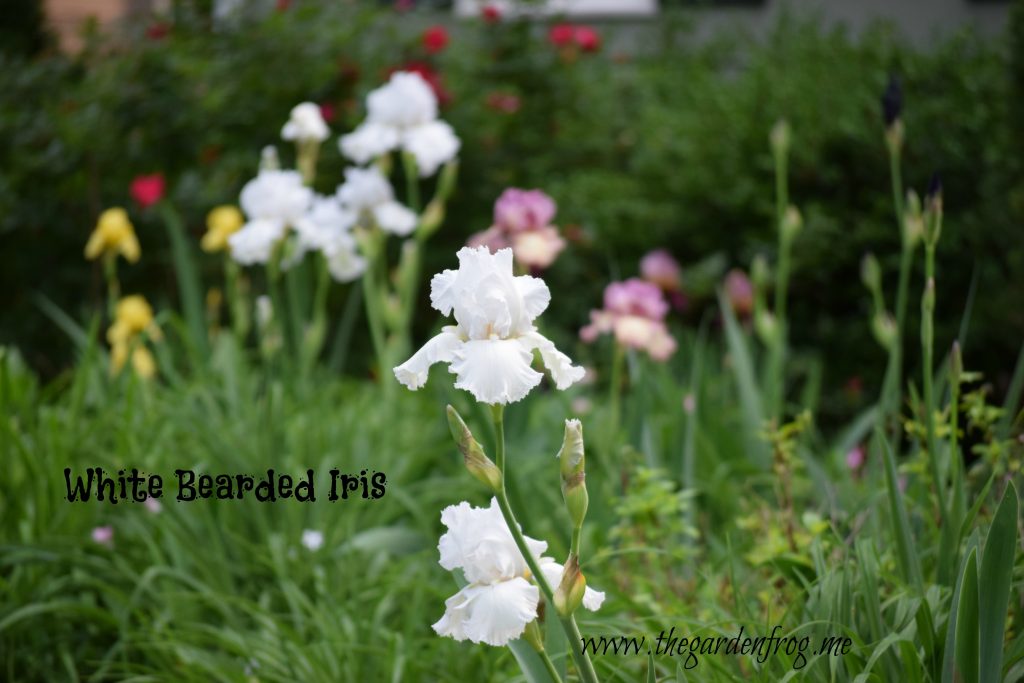 Plant Iris in the garden for spring time blooms that stand tall in the perennial bed. Iris make a great back drop with their leaves during the summer months as your other perennials such as daylilies, coneflowers, and salvia bloom.
Iris are not like other perennials when it comes to planting them. Iris have rhizomes that do not like to be buried deep. As a matter of fact, they love to have the tops of the rhizomes exposed to the sun. You can divide and move Iris spring through fall and require no special fertilizers or soil. I have red clay soil and my Iris thrive. Iris are susceptible to aphids and Iris borer. Iris do not like wet conditions and this past spring several of my Iris clumps started to rot. (You can save rhizomes many times from Iris borer and rot by cutting away bad part which I will write about soon)
I have over 15 colors and varieties of Iris. It is my favorite flower. My absolute favorite is an almost black- a very dark purple that I was given over 23 years ago! That is when I realized I have to have Iris in all my gardens.
Right now my Iris are sitting waiting for their new garden beds. I am selling my current home and dug up all my Iris. It is hard to be without my gardens but knowing that one day next spring I will see this beauties blooming once again.
Thank you for stopping by and soon I will write more about the care and cure for anything that ails the Iris. There are so many choices to love. Here's a short video on how to plant Iris on my Youtube channel.
Creating. Inspiring. Gardening without the rules!
2016-17 copyrighted material C Renee